Well….since I last wrote, winter is back. We got snow and then it melted and more snow and more of the same. There were a couple days of warmer weather but it didn't last. Back to "normal" for this time of year the news says. Frankly, for a little while I was enjoying being back to "normal" because it is what felt right to me. Now…I've had enough of NORMAL and am ready for that warm weather. A bit schizophrenic of me….I know. That's what happens to some of us New Englanders when things are not "normal"….whatever the heck that is? 
I am heading into a very busy couple of weeks. April 4th is my husbands 51st birthday….yes….I married a younger man…doesn't everyone? I am 57. Sometimes I am 7 years older and sometimes 6 years older….I prefer 6!! My sister in law Maryellen's birthday is April 6th. Easter is on the 8th. My mother in law Alice turns 80 on the 9th. My cousin Margaret, whom we just lost recently, would have been 82 or 83 on the 11th. We are having a memorial for her on that very day (her birthday) at the Sacred Heart Catholic church in my home town. That was the church I attended, my entire young adult life. I loved that beautiful stone church.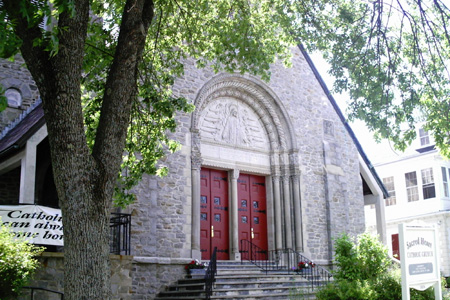 Those wonderful red doors were always so inviting. The doors were never locked. As a teenager I would go in there and pray….all alone. Today, I think they lock the doors.
And after the 11th, we have a bit of a break. Then we have April vacation to look forward to. I have been making regular sized pincushions for my group of ladies that come to my house on Thursdays. I asked each of them what their favorite colors were and used that as a guide. I've finished 4 and am working on #5. Each one has their name embroidered on it. I had two Mary's….a Julie…a Holly and a Natasha to embroider. Of course the Natasha was the hardest, being the longest name! They are kind of cute if I must say so myself. Not perfect by any means but cute.
I will take some pictures when the 5th one is done and share with you. I hope you all have a wonderful Easter and I will try to get back with photos of Easter and everything else soon…..
See you soon……